For my first review for the new year and my new blog I am going to review Viola In Reel Life!!!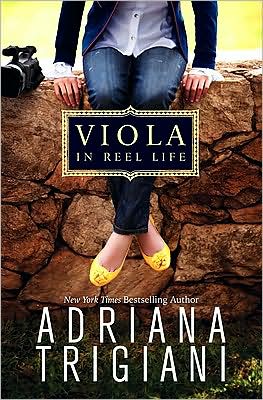 Viola In Reel Life
Adriana Trgiani
Harper Teen
$16.99 U.S. (Hardcover)
FTC: I borrowed this boook from my friend who recevied it from a publisher. I promise to give an honest review and will not be receving compensation.
Synopsis by Barnes and Noble:
I'm marooned.
Abandoned.
Left to rot in boarding school . . .
Viola doesn't want to go to boarding school, but somehow she ends up at an all-girls school in South Bend, Indiana, far, far away from her home in Brooklyn, New York. Now Viola is stuck for a whole year in the sherbet-colored sweater capital of the world.
Ick.
There's no way Viola's going to survive the year—especially since she has to replace her best friend Andrew with three new roommates who, disturbingly, actually seem to like it there. She resorts to viewing the world (and hiding) behind the lens of her video camera.
Boarding school, though, and her roommates and even the Midwest are nothing like she thought they would be, and soon Viola realizes she may be in for the most incredible year of her life.
But first she has to put the camera down and let the world in.
My Thoughts:
I found this book to be enjoyable. It is not something that I would have picked up to read normally. I think that Viola was generally a likeable character. As a reader I was able to sympathize for her and her situation of being left at boarding school, and her quest to fit in. I think that Adriana Trigiani did a good job on creating characters who were very unique but were also relateable to the readers and to eachother. I enjoyed reading about the interactions between Viola and her roommates, they were very practical and things that anyone could experience. The plot was simple, yet well mastered and contained surprises ocassionally that made the reader want more. All in all this was a good book, but it was not typically my style.
Recommendation: Girls 13-17 it relates to the awkward stage that we all go through
Grade: A
Age: 13 and up
Quote: "I just became a full-fledged teenager with an actual life, but the world has changed." ~ Viola