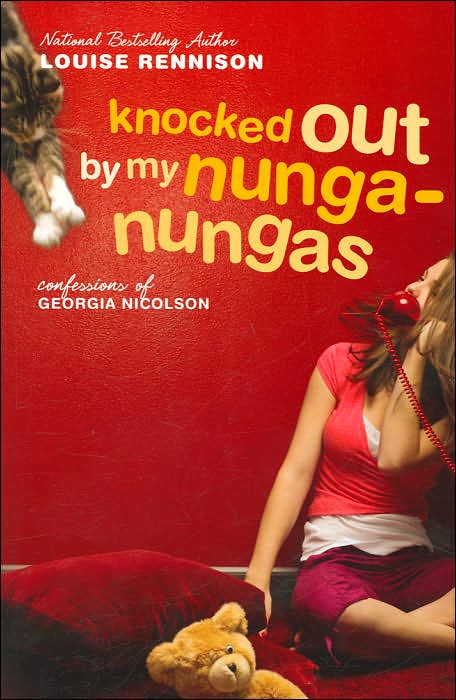 Knocked Out by My Nunga-Nungas
Louise Rennison
HarperCollins Publishers
$8.99 U.S.
FTC: I purchased this book, I did not receive it from a publisher.
Synopsis from the back of the book:
Georgia Nicolson is now the girlfriend of the Sex God (aka Robbie), and things are now wonderful. Except her loony parents are dragging her off to Och Aye land (aka Scotland), and the Sex God's band's chance at a record contract has left her something of a "pop widow."
The up rears temptation in the form of old flame Dave the Laugh. Is Georgia about to become a shameless vixen?
My Thoughts:
I am a huge fan of the Georgia Nicolson series. I find myself laughing out loud as I read them quite often. The books are light hearted and just plain fun to read. They also are a laugh. In tyhe third book of this series Georgia's love for the Sex God is tried as she is carted off to Scotland with her loony family. I think we begin to see more of Georgia's personality in this book. She begins to exprience rough situations and a connection to Dave the Laugh that could ruin everything with the Sex God. I love the characters. They all interact in a way that lacks words, but mostly consists of me laughing. I enjoyed going on another fun escapade with Georgia in this novel. I think another big plus to this book is the fact that it is British humor. It is very different but also quite entertaining. There is also a dictionary in the back which about makes me die when I look at it.
My Recommendations: Anyone in for a laugh
Grade: A
Age: 13 and up
Quotes: Then I told her about the Jock McThick fandango. She said, "Erlack a pongoes. Did you encourage him? Maybe you gave out the wrong signals." -Jas
"Jas, I was not in the nuddy-pants."-Georgia