This book came out just last week. but I decided to post the review for it earlier than I normally would. I love Lisa Schroeder she is such a sweet lady, I decided to get my review out earlier to hopefully encourage more of you to get this book!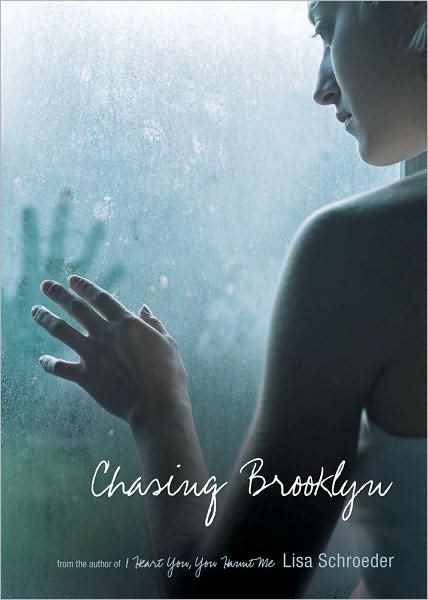 Chasing Brooklyn
Lisa Schroeder
Simon and Schuster's Childrens Publising
$15.99 U.S. (Hardcover)
FTC: I purchased this book.
Synopsis from the front flap:
Restless souls and empty hearts
Brooklyn can't sleep. Her boyfriend, Lucca, died only a year ago, and now er friend Gabe has just died of an overdose. Every time she closes her eyes, Gabe's ghost is there waiting for her. She has no idea what he wants, or why it isn't Lucca visiting her dreams.
Nico can't stop. He's always running, trying to escape the pain of losing his brother, Lucca. But when Lucca's ghost begins leaving messages telling Nico to help Brooklyn, emotions come crashing to the surface.
As the nightmares escalate and the messages become relentless, Nico reachers out to Brooklyn. But neither of them can admit that they're being haunted. Until they learn to let each other in, not one soul will be able to rest.
My Thoughts: This book was fantastic. I loved the way it switched from Brooklyn to Nico throughout the story. This helped to provide a well-rounded idea of all that was going on in the story. The two main characters were very likeable. I was able to connect to Brooklyn and Nico like they were friends not just characters. I loved the plot of the book, and how it escalated thrughout the entire thing. There were frightening times as well as sweet times, and the contrast kept me glued. I read this book in two sittings and the only reason I stopped was because I had to go to work. The book engrosses you, and suddenly you are in a world that is not your own. I loved this book. Lisa did an amazing job of incorporating her first novel I Heart You, You Haunt Me into Chasing Brooklyn. While it was subtle it played a very important part to the book.
Recommendation: Everyone!!!!
Grade: A
Age: 14 and up
Quotes: Something bout verse books makes it super hard to choose just one quote so I will share a few...
"And Brooklyn, don't worry. I'll wait for you at the finish line." -Nico
"Love is the answer. Not fear."-Lucca