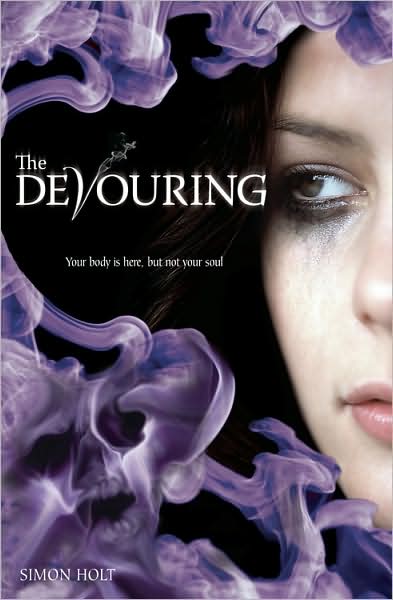 The Devouring
Simon Holt
Little Brown Books for Young Readers
$7.99 U.S.
FTC: I am not receiving any compensation for promoting this book
Synopsis from the back of the book:
When dark creeps in and eats the light, bury your fears on sorry night. For in the winters blackest hours comes the feasting of the vours.
The Vours: evil, demonic beings that inhabit human bodies on Sorry Night, the eve of the winter solstice.
When Reggie reads about the Vours in an old, mysterious joural, she assumes these are just the musings of an anonymous lunatic. But when her little brother, Henry, begins to act strangely, it's clear that these creatures exist beyond a madwoman's imagination, and Reggie finds out what happens when fears come to life.
My Thoughts:
I Thought this book looked kind of scary but also really interesting. After looking it up I went out and bought it! I loved the cover of this book. The swirling purple drew me in but then I looked at the girls face. There were so many emotions there.I am excited to read this book because it looks different than the other things I have been reading lately. It sounds like a ghost story gone wrong. Keep a look out for the review!!!