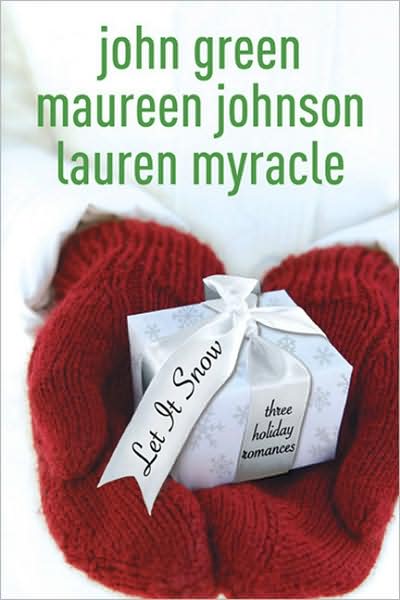 Let It Snow: Three Holiday Romances
John Green, Maureen Johnson, Lauren Myracle
Penguin Group
$9.99 U.S.
FTC: I purchased this book.
Synopsis by Barnes and Noble:
The weather outside is frightful, but these stories are delightful! When a huge blizzard (that doesn't show signs of stopping) hits, Gracetown is completely snowed in. But even though it's cold outside, things are heating up inside, proving that the holiday season is magical when it comes to love. In three wonderfully (and hilariously!) interconnected tales, YA stars John Green, Lauren Myracle, and Maureen Johnson create a must-have collection that captures all the spirit of the holiday season.
My Thoghts:
Love! I read this right before Christmas and it was just perfect. I bought this book because I needed a winter story to curl up and read next to fire. If that is what you are looking for than this is the right book. I absolutely love that the stories were all connected. It was exciting to see three different parts of the story work together as well as see it from the point of view from three different characters. I think each author added their own individual flair to their stories which made you feel intrigued, it also made you want to keep reading to see if more would happen. I think that the three short stories were masterfully tailored together to create on amazing snow time novel. The ending was perfect, and I was so excited that i decided to pick this book up.
Recommendations: Anyon looking for a winter read.
Grade: A
Age: 13 and up
Quotes:
"There is nothing about a bad situation that four hyper cheerleaders can't worsen." ~Jubilee, The Jubilee Express-Maureen johnson
"The middle is never the end, though." ~Tobin, A Cheertasric Miracle-John Green
"The new me, however, was not a whimperer." ~Addie, The Patron Saint of Pigs-Lauren Myracle