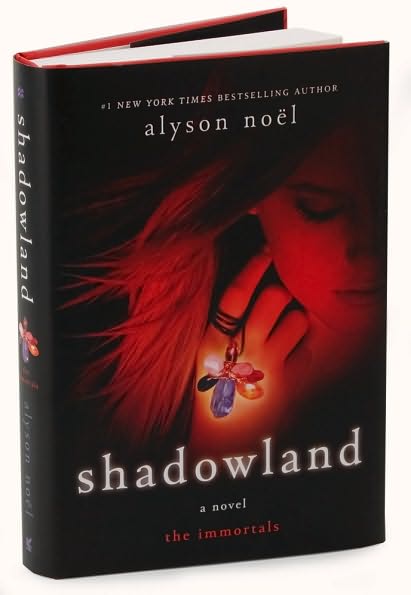 Shadowland
Alyson Noel
St. Martin Griffin
$17.99 U.S. (Hardcover)
FTC: I purchased this book myself. I did not receive it from a publisher.
Synopsis from the book:
Ever and Dame have traveled through countless past lives -- and fought off the world's darkest enemies -- so they could be together forever. But just when theor long-awaited destiny is finally within reach, a powerful curse falls upon Damen. . . one that could destroy everything. Now a single touch of their hands or a soft brush of their lips could mean sudden death -- plunging Damen into the Shadowland. Desperate to break the curse and save Damen, Ever immerses herself in magick -- and gets help from an unexpected source -- a surfer named Jude.
Although she and Jude have only just met, he feels startlingly familiar. Despite her fierce loyalty to Damen, Ever is drawn to Jude, a green-eyed golden boy with magical talents and a mysterious past. She's always believed Damen to be her soul mate and ine true love -- and she still believes it to be true. But as Damen pulls away to save them, Ever's connection with Jude grows stronger -- and tests her love for Damen like never before. . .
My Thoughts:
I had long been awaiting this book, so when I heard it came out earlier then I expected I raced to Borders to purchase it. I expected to sit down and read it all in one day, to my surprise I was unable to. After the much awaited release of Shadowland I have to admit that I was disappointed. I loved Evermore and thought Blue Moon was pretty good but not my favorite so I expected another great book. In Shadowland Ever has become even more whiney than before. No that Damen and her cannot touch eachother they have become more agitated. I also found that in this novel Damen has also become much more annoying. His melancholy mood, and extreme jealous hide the loveable character I used to know. While the characters are supposed to be acting more grown up in this book they act childish. I did like the addition of Jude to the characters but he has caused more harm than good. I did enjoy the plot, but I still found myself questioning how they got into such a mess. I do plan on continuing the series but I am no longer as excited as I used to be.
Recommendations: Anyhone who liked Evermore enough to put with whiney characters.
Age:14 and up
Grade: B -