So deciding to do this was a lot easier said than done so I had to come up with a startegy and guidelines. I am going to choose these books from the teen section on borders.com, I will choose books that I have not heard a whole lot about, and then I will find the synopsis on Barnes and Noble (they tend to have more information)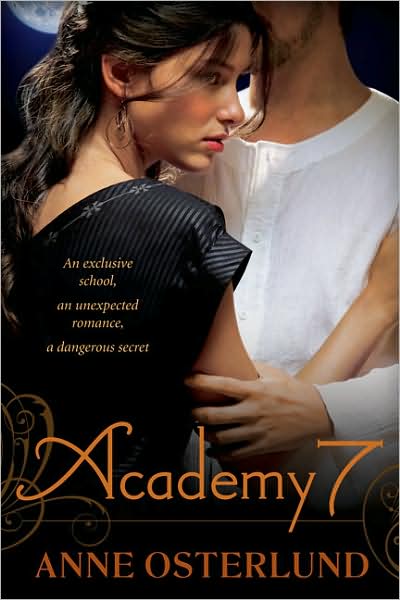 Academy 7
Anne Osterlund
Penguin Group
$8.99 U.S.
FTC: I chose this book on my own and am receiving no compensation for promoting it.
Synopsis by Barnes and Noble:
With a past too terrible to speak of, and a bleak, lonely future ahead of her, Aerin Renning is shocked to find she has earned a place at the most exclusive school in the universe. Aerin excels at Academy 7 in all but debate, where Dane Madousin—son of one of the most powerful men in the Alliance— consistently outtalks her. Fortunately Aerin consistently outwits him at sparring. They are at the top of their class until Dane jeopardizes everything and Aerin is unintentionally dragged down with him. When the pair is given a joint punishment, an unexpected friendship—and romance—begins to form. But Dane and Aerin both harbor dangerous secrets, and the two are linked in ways neither of them could ever have imagined. . . .
Why:
I think this book looks intriguing. I also had never heard of it, even though it came out in 2009. I think this added an air of mystery to it. Aerin sounds like a strong female character that I would like to read about. This book sounds like something that would also be very different from the things I have been reading recently. I think that I will now be on the look out for it.