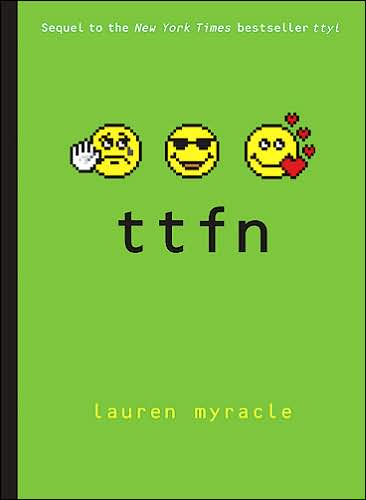 TTFN
Lauren Myracle
Harry N. Abrams Inc.
$6.95 U.S.
FTC: I borrowed this book from my friend, she did not receive it from a publisher.
Synopsis by Barnes and Noble:
Told entirely in instant messages, this sequel to the hugely popular ttyl follows Maddie, Zoe, and Angela through the new flirtations, fixations, and frustrations of eleventh grade. Angela has just found out that her family is moving to El Cerrito, California, and she seriously doesn't know how she'll survive without her best friends. Maddie makes some really bad moves with Clive, a pot-smoking hipster who wants to be "friends with benefits." And Zoe finds herself falling for Doug, the sweet poet who has had a crush on Angela forever - a crush that Angela has come to count on.
My Thoughts:
Awesome!!! This book was fun. Lauren Myracle does an amazing job of capturing the essence of the teen life. This book was a fun quick read that I could barely put down. Since the first book the girls have grown as individuals and this book shows that. I liked that the girls experienced more in depth issues in this book, and that we were able to see that they grew up. I found the plot to be intriguing as well as realistic. I think that the topics adressed were realistic to all teenagers. I enjoy the way that the girl react with eachother and even though they argue end up friends in the end. I loved this book.
Recommendation: High school girls
Grade: A+
Age: 15 and up
Quote: "1 said 'sticks and stones will break my bones, but whips and chanis excite me,' and another said 'i'd rather be spanjed.' also included were 'ass pirate,' 'i heart llamas,' and, my personal fave, 'jesus loves you, but i'm his favorite.'" ~Zoe to Angela