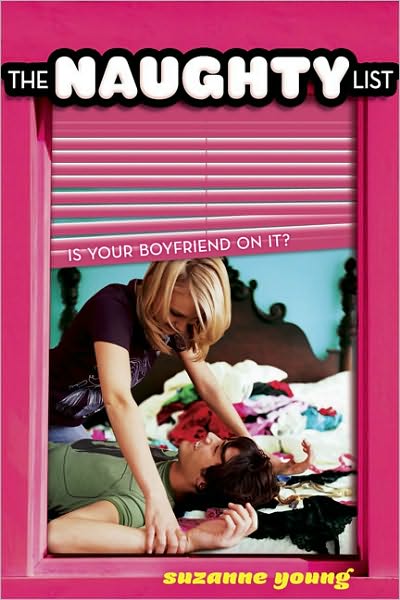 The Naught List
Suzanne Young
Penguin Group
$9.99 U.S.
Released Date: February 4, 2010
FTC: I borrowed this book from a friend who received it from a publisher, I agree to provide an honest review knowing I will not be compensated.
Synopsis by Barnes and Noble:
As if being a purrfect cheerleader isn't enough responsibility! Tessa Crimson's the sweet and spunky leader of the SOS (Society of Smitten Kittens), a cheer squad–turned–spy society dedicated to bringing dastardly boyfriends to justice, one cheater at a time. Boyfriend-busting wouldn't be so bad . . . except that so far, every suspect on the Naughty List has been proven 100% guilty!
When Tessa's own boyfriend shows up on the List, she turns her sleuthing skills on him. Is Aiden just as naughty as all the rest, or will Tessa's sneaky ways end in catastrophe?
The Naughty List. Is your boyfriend on it?
My Thoughts:
It took me a bit to get into this book, but once I did I loved it. This book was different than anything I have read recently. I loved the main characters, Tessa especially. Her need to always be peppy radiates through the book, and makes it fun for you to read. I love Suzanne's word choice throughout the book. Since Tessa does not approve of language she often uses cute catch phrases like "So strawberyr Smoothie." I think the book provides enough mystery to it, to keep you reading. You find yourself questioning the integrity of some of the characters and wondering what will happen next. I think this book provides a fun new twist to the average cheerleader. I found myself rooting for Aiden and Tessa through book, and hoping among all hope that things would work out. I found this book to be fun and peppy just like Suzanne and I cannot wait for the second one to come out in the Summer.
Recommendations: Everyone should read it!
Grade: A
Age: 15 and up
Quote: "Toasted Ravioli! I was busted." ~ Tessa