Sorry I missed reviewing yesterday! I got really busy so to make up for it I will post two reviews today!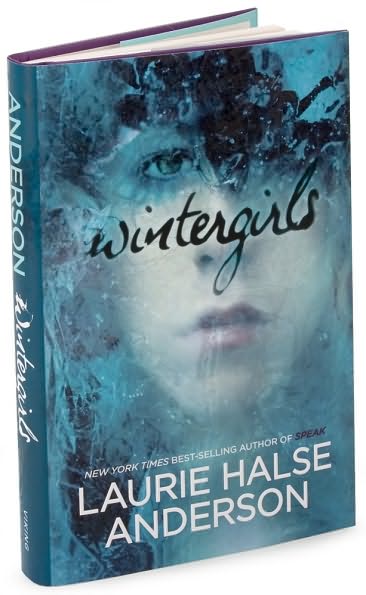 Wintergirls
Laurie Halse Anderson
Penguin Group
$17.99 U.S. (Hardcover)
Synopsis by Barnes and Noble:
"Dead girl walking," the boys say in the halls."Tell us your secret," the girls whisper, one toilet to another.I am that girl.I am the space between my thighs, daylight shining through.I am the bones they want, wired on a porcelain frame.
Lia and Cassie are best friends, wintergirls frozen in matchstick bodies, competitors in a deadly contest to see who can be the skinniest. But what comes after size zero and size double-zero? When Cassie succumbs to the demons within, Lia feels she is being haunted by her friend's restless spirit.
In her most emotionally wrenching, lyrically written book since the multiple-award-winning Speak, Laurie Halse Anderson explores Lia's descent into the powerful vortex of anorexia, and her painful path toward recovery.
My Thoughts:
I was surprised by this book. I wasn't expecting th intensity of it when I bgean reading it. I did however really enjoy this book. Laurie Halse Anderson put in extreme work in finding out the true complications and emotions of a girl batling a disease. I enjoyed the way the book was written. The chapters all flowed together, so it was hard to put the book down because everything moved together. The charactes were believable in this book. Lia was written perfectly. I found myself wanting to help Lia while reading this book. I think this was a tremendous book. It is not one I would read again, but I am glad I read it.
Recommendation:
Any girl.
Grade: A
Age: 14 and up