I was bad and missed posting yesterday.... so I will throw out 2 reviews for you today!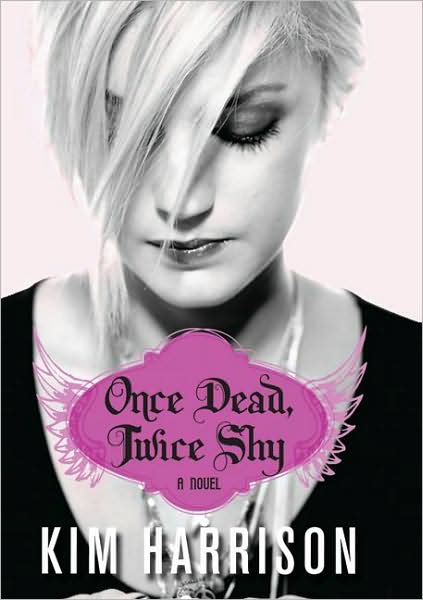 Once Dead, Twice Shy
Kim Harrison
HarperCollins
$16.99 U.S. (Hardcover)
Synopsis by Barnes and Noble:
My name is Madison Avery, and I'm here to tell you that there's more out there than you can see, hear, or touch. Because I'm there. Seeing it. Touching it. Living it.
Madison's prom was killer—literally. For some reason she's been targeted by a dark reaper—yeah, that kind of reaper—intent on getting rid of her, body and soul. But before the reaper could finish the job, Madison was able to snag his strange, glowing amulet and get away.
Now she's stuck on Earth—dead but not gone. Somehow the amulet gives her the illusion of a body, allowing her to toe the line between life and death. She still doesn't know why the dark reaper is after her, but she's not about to just sit around and let fate take its course.
With a little ingenuity, some light-bending, and the help of a light reaper (one of the good guys! Maybe . . . ), her cute crush, and oh yeah, her guardian angel, Madison's ready to take control of her own destiny once and for all, before it takes control of her.
Well, if she believed in that stuff.
My Thoughts:
I love love loved this book! This was Kim's first young adult novel and she did a remarkable job! Madison is an amazing character. She is very relatable, and has a fun attitude. I loved the plot of this book. The concept was very different from all the other fantasy books that came out at this time. Kim also did an amazing job in forming all of her other characters. In this book more than any other the characters became real. I felt like I began to knwo them and understand them. This book was amazing! It was fun to read, and I am excited for the next book in the series to come out. The book had substance, and once I started it, it was hard to put down.
Recommendation:
Anyone! READ THIS BOOK!
Grade: A
Age: 14 and up
Extras:
I would advise reading Madison's beginning before you read the book. Kim wrote a short story about her which can be found in the collection called Prom Night's From Hell. This is also going to be a series but there aren't many details out yet.