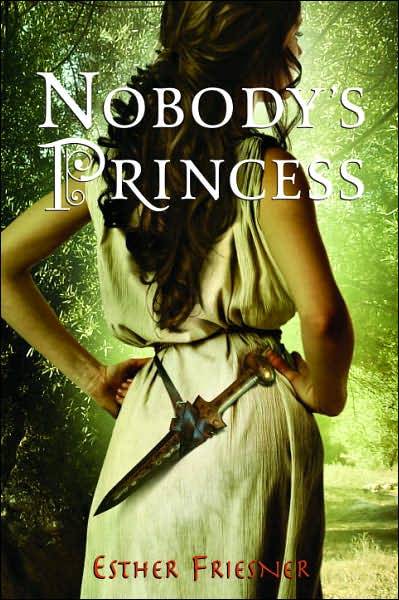 Nobody's Princess
Esther Friesner
Random House
$7.99 U.S.
Synopsis by Barnes and Noble:
She is beautiful, she is a princess, and Aphrodite is her favorite goddess, but something in Helen of Sparta just itches for more out of life. Not one to count on the gods—or her looks—to take care of her, Helen sets out to get what she wants with steely determination and a sassy attitude. That same attitude makes Helen a few enemies—such as the self-proclaimed "son of Zeus" Theseus—but it also intrigues, charms, and amuses those who become her friends, from the famed huntress Atalanta to the young priestess who is the Oracle of Delphi.In Nobody's Princess, author Esther Friesner deftly weaves together history and myth as she takes a new look at the girl who will become Helen of Troy. The resulting story offers up adventure, humor, and a fresh and engaging heroine you cannot help but root for.
My Thoughts:
This book took me a bit to get into but it was worth the read. This book was interesting. The character of Helen was an inspiration. This is a definite girl empowerment book. Helen is strong and she defies the guidelines that have been set for her. The plot of this book was intriguing, because we were able to follow Helen as she grew, and as she travelled. I found the history in this book to be informative, as well as entertaining. Friesner does a good job of combining old legend with new twist. I hope this is the lif Helen of Troy lived, because that would show just how amazing she was. This book was different from everything else I had been reading at the time but I loved it.
Recommendation:
A little younger audience with a desire to read
Grade: A-
Age: 12 and up
Bonus: Fpollow Helen in the sequel Nobody's Prize