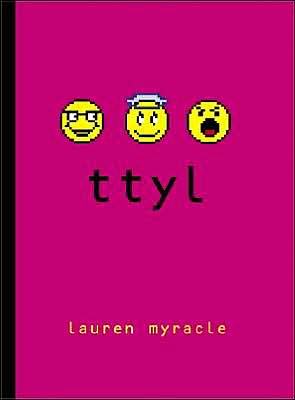 TTYL
Lauren Myracle
Amulet Books
$6.95 U.S.
Synopsis by Barnes and Noble:
The runaway bestseller now in paperback! An epistolary novel for the 21st century, this sharp, funny, and true-to-life breakout hit about friendship is told entirely in instant messages. And Internet-savvy teens have fallen in love with flirty Angela (SnowAngel), moody Maddie (mad maddie), and good girl Zoe (zoegirl) and their frank perceptions about a tumultuous tenth-grade semester. Now perfectly priced for its audience, the paperback is being released alongside Myracle's brand-new hardcover novel, Rhymes with Witches.
Author Bio: In addition to ttyl, Lauren Myracle is the author of three other novels, including her latest, Rhymes with Witches. She holds an MFA in Writing for Children and Young Adults from Vermont College and lives in Colorado.
My Thoughts:
Enjoyable: This book is light hearted and also serious at the same time. Dive into TTYL and you can see into the lives of 3 teenage girls through their instant messaging. I loved the idea of this book. It is so different than reading a normal novel with all the narration. We only saw the important things, and then we didn' t even see it we just heard it from the girl's point of view. The girls were very honest, and the characters were believeable. It was like I was reading a conversation between my own friends. I loved this book it was a quick fun read!
Recommendation: Everyone who is anyone!
Grade: A
Age 14 and up