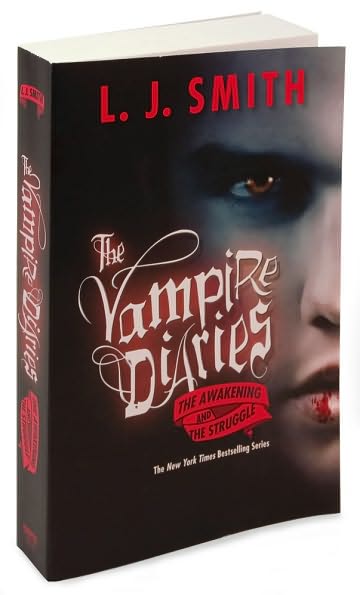 The Awakening
L.J. Smith
HarperTeen
$9.99 U.S. (Comes in a volume with book # 2)
FTC: I purchased this book
Words from the back of the book:
Elena: the goldne girl, the leader, the one who can have any boy she wants.
Stefan: brooding and mysyterious, he seems to be the only one who can resist Elena, even as he struggles to protect her from horrors that haunt his past.
Damon: sexy, dangerous, and driven by an urge for revenge against Stefan, the brother who betrayed him. Determined to have Elena, he'd kill to possess her.
My thoughts:
I was urged by my friend to try this series, so I did. I am very glad she urged me! Many people compare the Vampire Diaries to Twilight, but many people do not now that The Vampire Diaries was published in 1991. I absolutely loved the story of Elena and Stefan. I think L.J. Smith wrote an amazing Vampire novel years before Vampires would become popular again. The plot of this book was phenomenal. I found myself on the edge of my seat, wanting more with each chapter. I think L.J. Smith did a good job of providing mystery in her book. There was never a dull moment and I was always eager to continue reading and see what would happen next, and if Damon was truly as bad as he seemed. I think her characters were very well formed and interacted in unique ways with eachother. They compliment eachother well.
Recommendation: Anyone wanting a good vampire read after Twilight and a steamy love Triangle.
Age: 14 and up
Grade: A
Quote: "Elena revolved slowly before the full-length mirror in Aunt Judith's bedroom."