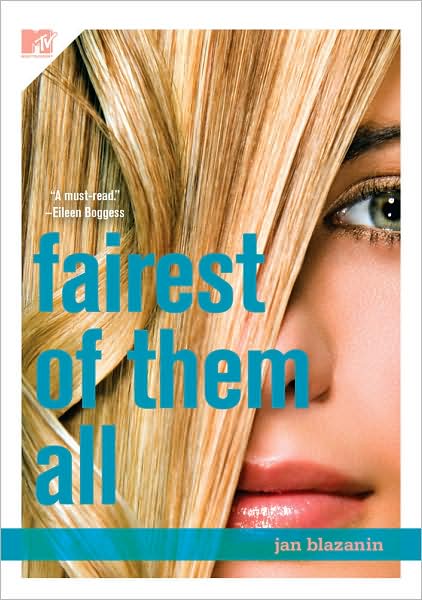 Fairest of Them All
Jan Blazanin
Simon and Schuster
$11.00 U.S.
FTC: I am not being compensated for promoting this book.
Synopsis by Barnes and Noble:
If life were a fairy tale, Oribella Bettencourt would have a "happily ever after" kind of future ahead of her. A Hollywood producer has come to Des Moines in search of a perfectly modern Princess Rapunzel, and Ori — a model, dancer, and star of the beauty pageant circuit — lands the part. And why shouldn't she? With her hardworking, self-sacrifi cing mother guiding her career, Ori is stunning, dedicated, poised...and then there's her hair. Breathtakingly lustrous blond hair that sets her apart from all the other girls at school. So what if she doesn't have any friends her age, or anyone to talk to other than her mother? She's on the verge of having everything she's ever dreamed of.
But in this fairy tale, the beautiful princess wakes up to her worst nightmare — when almost overnight, Ori begins to lose her hair....
Why:
I think this looks like a fun modern take on the typical Cinderella/Rapunzel story. I like that the problem described in the synopsis is not a boy but her hair. I think this may provide a much needed break from the typical princess waiting for a prince to save her. I like the idea that there are other issues being addressed.