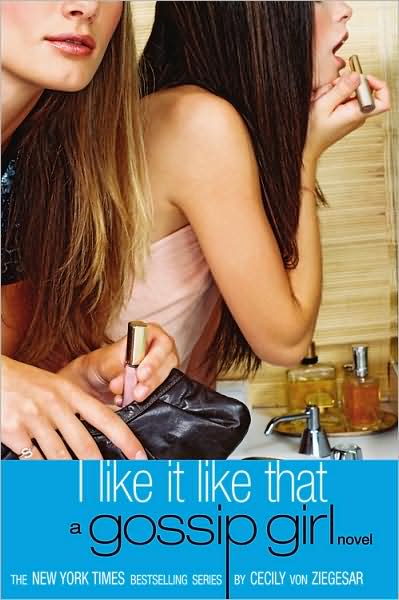 I Like It Like That
Ceily von Ziegesar
Little Brown Books for Young Readers
$8.99 U.S.
FTC: I purchased this book.
Synopsis from the back of the book:
Spring Break is here and it's time for S & B to jet out to Sun Valley for plenty of apres-ski hot tub fun. Too bad for those unfortunate few who have to stay in New York and intern amonh the city's most fabulous glitterati. Back on the slopes, when the ski house is this big, whoc can keep track of N, and who's sleeping where? So get out your cashmere-lined boots and meet me by the fire.
My Thoughts:
Oh Gossip girl. I love spending a day living vicariously through New York's elite. I liked that Nate was a main focus in this book. I absolutely love him, and the way his character grew in this book was fun to read. I loved the winter scene and I could almost feel myself up on the mountain while reading this book. I also really liked Blair's character in this story. She finally decided to take what she wanted, and that made me proud. But then she changed her mind and realized what she really wanted. I cannot wait to see where life takes B and N in the next book.
Recommendations: Anyne wanting a good winter read
Age: 16 and up
Grade: A
Quote: "And it was kind of . . . yummy."