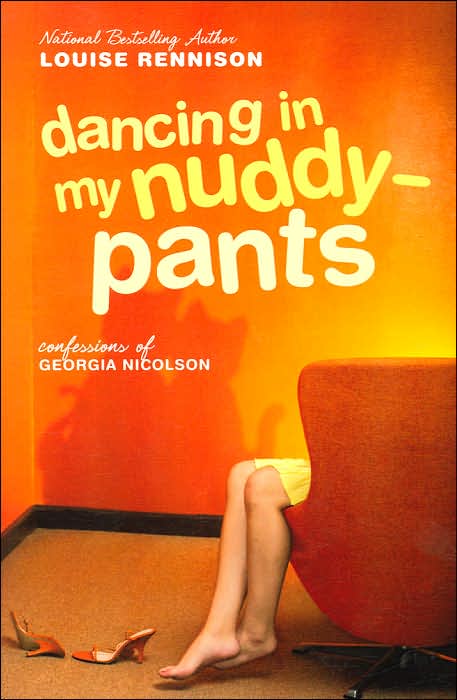 Dancing In My Nuddy-Pants
Louise Rennison
HarperTeens
$8.99 U.S.
FTC: I purchased this book.
Synopsis from the back of the book:
Georgia thought she had put her "red-bottomosity" to rest when she finally chose Robbie the Sex God over Dave the Laugh. Anyway, Dave the Laugh is now dating her friend Ellen (which didn't stop Georgia from snogging him at a party. . .).
But when Dave breaks up with Ellen and the Sex God is never around, Georgia doesn't know what to do! As always, in Georgia's life, nothing ever turns out as planned.
My Thoughts:
Oh Georgia. She is up to it again. Shennanigans are never far when she is around. I absolutely am in love with these books. They are so muh fun, and Louise Rennison's sense of humor makes me want to die sometimes. In this book we delve deeper into Georgia's relationship with Robbie and her desire for Dave. We also witness the birth of Angus's babies. Mischief is always around the corner for these two and that is no different in this story. I liked that Rosie became a bigger part in this story. Jas was starting to get annoying, and she is just not a good friend.Rosie and SVen bring more drama and laughs to the book.
Recommendations: Anyone wanting a good laugh
Grade: A
Age: 13 and up
Quotes: "'Non . . . I am DANCING IN MY NUDDY-PANTS!!!'" And we both laughed like loons on loon tablets. ~Georgia