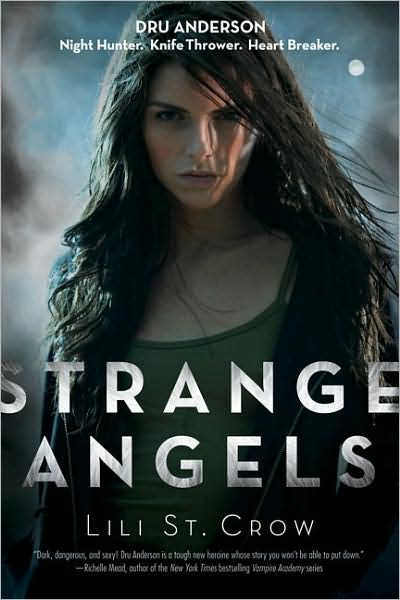 Strange Angels
Lili St. Crow
RazorBill
$9.99 U.S.
FTC: I purchased this book.
Back Cover:
The real world is a frightening place. Just ask sixteen-year-old orphan Dru Anderson, a tough girl who has taken down her fair share of bad guys. She's armed, dangerous, and ready to kill first and ask questions later. So it's gonna take her a while to figure out who she can trust . . .
Dru Anderson has been "strange" for as long as she can remember, traveling from town to town with her father to hunt the things that go bump in the night. It's a weird life, but a good one--until it all explodes in an icy, broken-down Dakota town, when a hungry zombie busts through her kitchen door. Alone, terrified, and trapped, Dru's going to need every inch of her wit and training to stay alive. The monsters have decided to hunt back--and this time, Dru's on their menu. Chances of survival? Slim to none.
If she can't last until sunup, it's game over. . .
My Thoughts:
Oh goodness where to start... I had mixed feelings for most of this book. While I absolutely loved the plot I often found myself frustrated with the writing style the author used. There were some passages that jumped around so much I had to read it multiple times to get the message. Dru is an amazing character. She is such a tomboy and not someone you would want to meet in the street at night. I loved how strong she was, even when her world was falling around her. Her budding relationship with Graves and Christophe kept me intrigued throughout the story. The clarity became better near the end of the book and I was able to get into it more. I also had a couple issues with comments the author made in the book. There were a few instances where comments were made towards one of the characters that appeared racist. I do not believe the St. Crow inteded this, especially she has named him as her favorite charcter, but it did not read well. She also talked about Dru throwing up a little to much for my liking. The book was action packed, and as I said earlier only go better as it went along.
Recommendation: Anyone seeking out some crazy action.
Grade: B -
Age: 14 and up