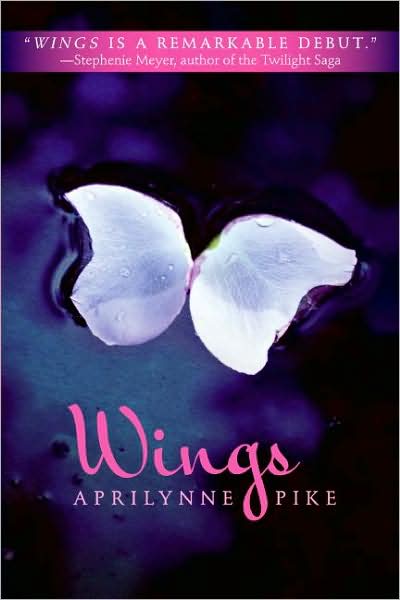 Wings
Aprilynne Pike
Harper Teen
$16.99 U.S. (Hard cover)
Synopsis by Barnes and Noble:
Laurel was mesmerized, staring at the pale things with wide eyes. They were terrifyingly beautiful—too beautiful for words.
Laurel turned to the mirror again, her eyes on the hovering petals that floated beside her head. They looked almost like wings.
In this extraordinary tale of magic and intrigue, romance and danger, everything you thought you knew about faeries will be changed forever.
My Thoughts:
Up until I read Wings I hadn't read many fantasy stories that didn't involve Vampires, so I was skeptical. I was blown away when I read this book. It truly brought me into the world of faeries. Aprilynne Pike is an amazing author as well as an amazing person. I was privileged enough to me here and if anyone should wirte about Faeries it is her. There is a grace to the book, as you follow Laurel through her transformation from starnge vegan home-schooled girl, to one who blossoms (literally) into the role destined to fill. The supporting characters were also key in bringing the book to life. David and Tamani both bring different spins to Laurel's life, and teach her new things about herself. I enjoyed this book, and was sad when it ended. There is a twist in the end, and as a reader I was completely shocked in the end.
Recommendation:
I would recommend this book to anyone, Aprilynee writes in a way that cannot classify the book as merely fantasy, or young adult.
Grade: A
Age: 12 and up
Extras:
This is the first in a four book series. When I find out about the second book I will let you guys know. Oh and Disney is in the process of buying the rights to this book... and they plan on using Miley cyrus as Laurel (Gag), but the author says to give her a chance.