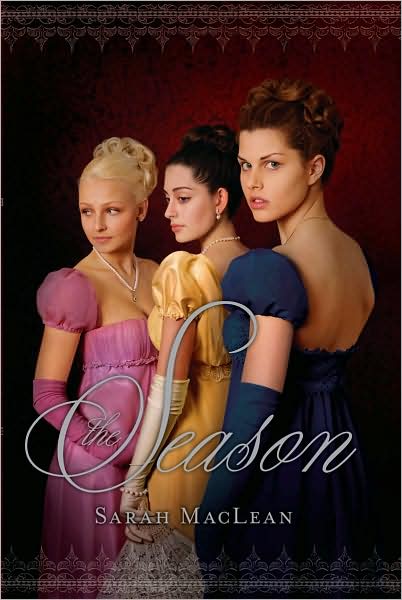 The Season
Sarah MacLean
Orchard Books which is part of Scholastic
$17.99 U.S. (Hard Cover)
Synopsis by Barnes and Noble:
Seventeen year old Lady Alexandra is strong-willed and sharp-tongued -- in a house full of older brothers and their friends, she had to learn to hold her own. Not the best makings for an aristocratic lady in Regency London. Yet her mother still dreams of marrying Alex off to someone safe, respectable, and wealthy. But between ball gown fittings, dances, and dinner parties, Alex, along with her two best friends, Ella and Vivi, manages to get herself into what may be her biggest scrape yet.
When the Earl of Blackmoor is mysteriously killed, Alex decides to help his son, the brooding and devilishly handsome Gavin, uncover the truth. But will Alex's heart be stolen in the process? In an adventure brimming with espionage, murder, and other clandestine affairs, who could possibly have time to worry about finding a husband? Romance abounds as this year's season begins!
My Thoughts:
As you can tell from my earlier reviews I have currently been reading a lot of fnatasy books, but I took a break to read The Season. I was pleasantly surprised. In this tale of 19th century England we meet a true heroine in Alex. I was amazed by the scenery in the books as well as the characters. from the brilliant dresses to the lavish ball gowns this novel is filled with entertainment as well as mystery. everyone will love Alex because she brings a feistiness that was uncommon at the time, with her sidekicks Ella and Vivi more mischief is created than one could ever imagine. I truly enjoyed this book. It was a great debut for Sarah MacLean. she made her characters so real, and her scenes so vivid I could easily play them out in my head.
Recommendations:
I would recommend this to anyone looking for a break from the real world, and wanting to take a trip back in time.
Grade: A
Age: 13 and up