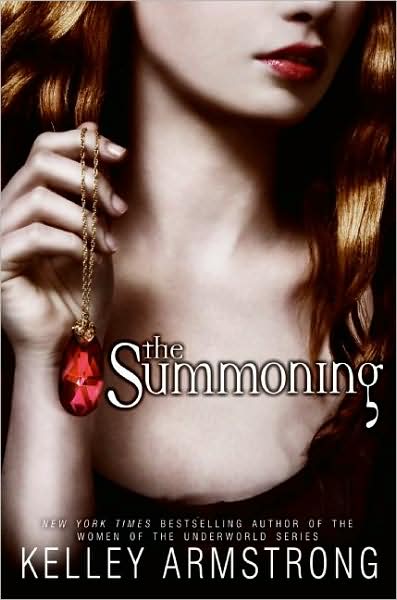 The Summoning
Kelley Armstrong
Harper Collins Publisher
$8.99 U.S.
Synopsis by Barnes and Noble:
After years of frequent moves following her mother's death, Chloe Saunders's life is finally settling down. She is attending art school, pursuing her dreams of becoming a director, making friends, meeting boys. Her biggest concern is that she's not developing as fast as her friends are. But when puberty does hit, it brings more than hormone surges. Chloe starts seeing ghosts–everywhere, demanding her attention. After she suffers a breakdown, her devoted aunt Lauren gets her into a highly recommended group home. At first, Lyle House seems a pretty okay place, except for Chloe's small problem of fearing she might be facing a lifetime of mental illness. But as she gradually gets to know the other kids at the home–charming Simon and his ominous, unsmiling brother Derek, obnoxious Tori, and Rae, who has a "thing" for fire–Chloe begins to realize that there is something that binds them all together, and it isn't your usual "problem kid" behaviour. And together they discover that Lyle House is not your usual group home either…
My Thoughts:
I thoroughly enjoyed this book. It was a different twist on the supernatural than we normally read about. The characters are well developed which makes them come to life. Chloe is a natural heroine and you cannot help but love her. And you even begin to feel for the "misunderstood" Derek. The only problem I had with this book was the fact that the entire 390 page plot spans only a week. A lot of things happen in this week, which make it seem slightly unrealistic but it does not cause a major issue. I enjoyed the setting of Lyle house, it is itself a character. The buliding brings it's own mystery to the plot. It is a definite tale of the supernatural so thos fantasy opposed beware. All the characters have secrets that you have to read the book to find out.
Recommendations:
I would recommend this book to someone who enjoys the supernatural, as well as mystery.
Greade: A
Ages: 13 and up