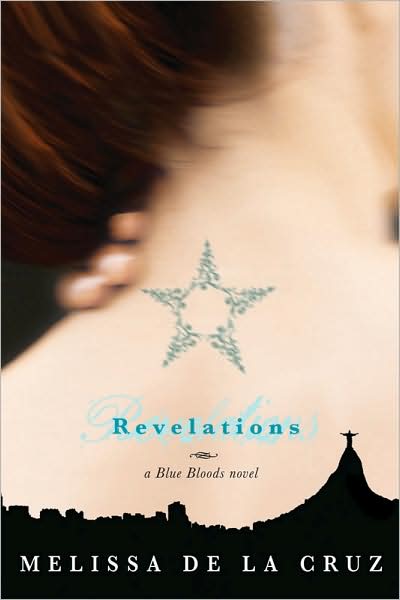 Revelations
Melissa de la Cruz
Hyperion
$15.99 U.S. (Hard cover)
Synopsis by barnes and Noble:
Have you ever wondered what secrets lurk behind the closed doors of New York City's wealthiest families? They're powerful, they're famous... they're undead.
Schuyler Van Alen's blood legacy has just been called into question - is the young vampire in fact a Blue Blood, or is it the sinister Silver Blood that runs through her veins? As controversy swirls, Schuyler is left stranded in the Force household, trapped under the same roof as her cunning nemesis, Mimi Force, and her forbidden crush, Jack Force.
When one of the Gates of Hell is breached by Silver Bloods in Rio de Janeiro, however, the Blue Bloods will need Schuyler on their side. The stakes are high; the battle is bloody; and through it all, Carnavale rages on. And in the end, one vampire's secret identity will be exposed in a revelation that shocks everyone
My Thoughts:
WOW! I had a hard time putting this book down! Everytime I thought I knew what was going on the story took a twist and you do not really know what is going on until the end. As you can tell I did truly love this book. Melissa de la Cruz knows how to keep a reader's attention an continues to show that in Revelations. We see a new setting in this book as the crew trecks down to Rio de Janeiro. There is more action in this book, and I enjoyed that. And the key moment comes at the end when the identity of the Silver Blood is announced. The book kept me wanting more and interested throughout the entirity of it. Again it included many aspects of everyday young adult fiction but also incorporated the fantasy world of vampires. In this third installment I became more attached to these characters than before.
Grade: A+
Age: 14 and up
SPOILER ALERT: do not read the following unless you have finished Revelations
Extras: The fourth book in the Blue Bloods series Van Alen Legacy will be hitting the shelves in October 2009! For a sneak peek at the first chapter visit Melissa de la Cruz's website: http://www.melissa-delacruz.com/ There you can also find the break-up scene from Jack's perspective (a necessary read)!