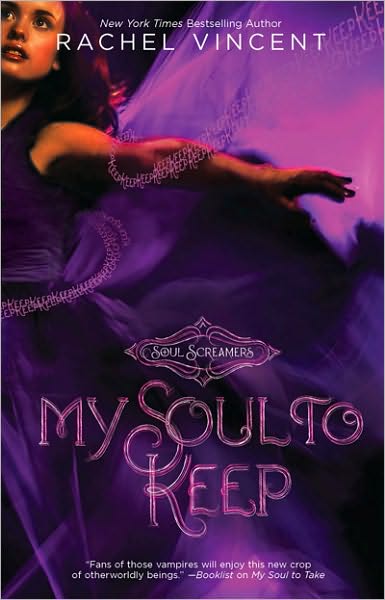 My Soul To Keep
Rachel Vincent
Harlequin
$9.99 U.S.
FTC: I purchased this book
Synopsis:
Kaylee has one addiction: her very hot, very popular boyfriend, Nash. A banshee like Kaylee, Nash understands her like no one else. Nothing can come between them.

Until something does.

Demon breath. No, not the toothpaste-challenged kind. The Netherworld kind. The kind that really can kill you. Somehow the super-addictive substance has made its way to the human world. But how? Kaylee and Nash have to cut off the source and protect their friends—one of whom is already hooked.

And so is someone else…
My Thoughts:
I think that this series deserves more attention! I absolutely love Rachel Vincent's Soul Screamers books. Kaylee and Nash are the perfect couple and I find myself rooting for them. I love that this is a paranormal book, but it is different from a lot of the other popular books out there right now. My Soul To Keep was my favorite of the series thus far. I found the first two books to be a little more predictable, and I really had no idea what was going to happen in My Soul To Keep until the very end, and then I was completely flabergasted. Rachel Vincent strung me along and then threw in a complete shocker at the end, and now I am stuck waiting for the next book to come out! What am I supposed to do???? I am dying to know where Vincent will take Kaylee and Nash next. While I was disappointed in one major outcome of this book, the writing was fantastic and the plot fulfilling. I am eagerly awaiting the next installment of the Soul Screamers series.
Recommendations:
Anyone looking for a good paranormal romance.
Grade: A
Age: Young Adult (14+)