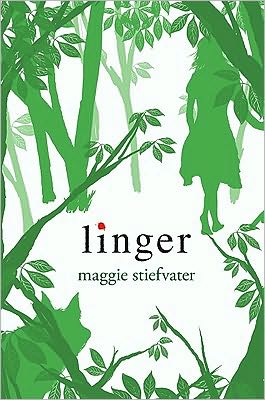 Linger
Maggie Stiefvater
Scholastic Press
Release Date: July 1, 2010
FTC: I am reviewing this book for a friend who receivied it from a publisher. I am not receiving compensation and am providing an honest review.
From the Back of the Book:
Their eyes, human eyes in wolf skulls,
remind me of water: the clear blue of
water reflecting the spring sky, the brown
of a brook churning with rainfall, the
green of the lake in summer as the algae
begins to bloom, the gray of a snow-choked
river. It used to be only Sam's yellow eyes
that watched me from between the rain-
soaked birches, but now I feel the weight
of the entire pack's gaze. The weight of
things known, things unsaid.
My Thoughts:
Wow, I do not even know where to begin. Linger went above and beyond all the expectations I had of it. The dynamic change between Shiver and Linger was palpable. In Linger we delve deeper into the characters of Sam, Grace, and Isabel. We are also introduced to a new character Cole. The addition of Cole to the story creates new drama as well a darker edge. In Linger Grace begins to grow as a character. She finally has Sam and when circumstances threaten to take him away the once obedient Grace is willing to defy all the rules just to be with him. After finding a cure Sam is now permanently a human, and has gotten his wish to stay with Grace always, or so he thinks. In Linger we seem him grow as a musician, but also an individual. I fell in love with Grace and Sam in Shiver and was blown away by the new twists that Maggie was able to bring into their relationship in this book. I loved the way they grew together. I was surprised when I saw tha Isabel would be returning in Linger, but again my expectations were surpassed. She added something to the book, her honestness and leadership made for a great charcter. I loved that her and Grace are friends. The final character, Cole, was my favorite throughout the book. When I first began reading I was unsure of how to feel about him, but he grew on me as I contiued on especially at the end. The characters were so well thought out and created that I was with them each time I turned the page. The book grew as I read it, the story thickened with each chapter. By the end of the book I barely knew what to think. I was blown away. I absolutely loved Linger and cannot wait to see what will happen in the next book. Maggie did an amazing job of following up Shiver. I could not have asked for more.
Recommendations: Everyone! There are so many elements composed in this book, which makes me think it has something for everybody.
Grade: A+ (By far one of the best books I have read!)
Age: 15 and up
Quote: "Surrounded by wolves, I sat on the forest floow as the sun sank in the sky and the shadows of the pines grew, and I wondered how much time I had." ~ Grace