I am starting this up again, because the alphabet does not end at "F"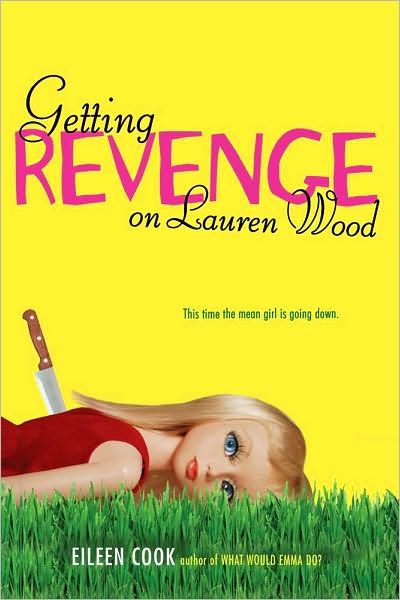 Getting Revenge on Lauren Wood
Eileen Cook
Simon and Schuster
$15.99 U.S. (Hardback)
FTC: I am not receiving compensation for promoting this book.
Synopsis by Barnes and Noble:
In the final weeks of eighth grade, Lauren Wood made a choice. She betrayed her best firend, Helen, in a manner so publicly humiliating that Helen had to move to a new town just to save face. Ditching Helen was worth it though, because Lauren started High School as one of the It Girls-- and now, at the start of her senior year, she's the cheerleading captain, the quarterback's girlfriend, and the undisputed queen bee. Lauren has everything she's ever wanted, ad she's forgotten all about her ex-best friend. But Helen could never forget Lauren. After three years of obsessing, she's moving back to her old town. She has a new name, and a new look, but she hasn't dropped her old grudges. She has a detailed plan to take down her former BFF, by taking away everything that's ever been important to Lauren--starting with her boyfriend. Watch out Lauren Wood, things are about to get bitchy.
Why:
I absolutely am in love with the cover of this book. The bright yellow draws you in right away. The barbie with a knife in her back isn't bad either. Looking at the cover I thought about The Pretty Little Liars series which I absolutly loved. A little revenge story is always good to read, and this one just looks like fun. The last sentence makes the whole synopsis. I cannot wait to read this book!