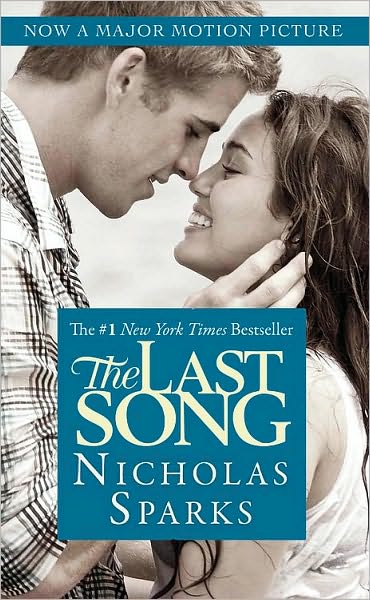 The Last Song
Nicholas Sparks
Grand Central Publishing
$7.99 U.S.
FTC: I purchased this book
Synopsis by Barnes and Noble:
In the tradition of A Walk to Remember, this is a story of a teenage girl and her first encounter with heartbreak ?? and love.
Seventeen year old Veronica "Ronnie" Miller's life was turned upside?down when her parents divorced and her father moved from New York City to Wilmington, North Carolina. Three years later, she remains angry and alientated from her parents, especially her father...until her mother decides it would be in everyone's best interest if she spent the summer in Wilmington with him. Ronnie's father, a former concert pianist and teacher, is living a quiet life in the beach town, immersed in creating a work of art that will become the centerpiece of a local church.
The tale that unfolds is an unforgettable story of love on many levels??first love, love between parents and children ?? that demonstrates, as only a Nicholas Sparks novel can, the many ways that love can break our hearts...and heal them.
My Thoughts:
Nicholas Sparks is very hit and miss with me, but I actually really enjoyed reading the last song. I think the story of Ronnie and Will is heart warming as well as heart breaking at times. I think the characters are relateable and you find yourself wanting to keep reading so you can see what happens next. I loved the setting of this book. I could see the beach when Sparks described it. The main disappointment I had was that in true Sparks fashion someone had to die in the end. I never really understand why all love stories must include death, and this frustrated me a it in the end. I really did enjoy this book, and I would recommend reading it prior to the movie.
Recommendations: Anyone looking for a story about young romance.
Age: 14 and up
Geade: A- (could have done without the death.)