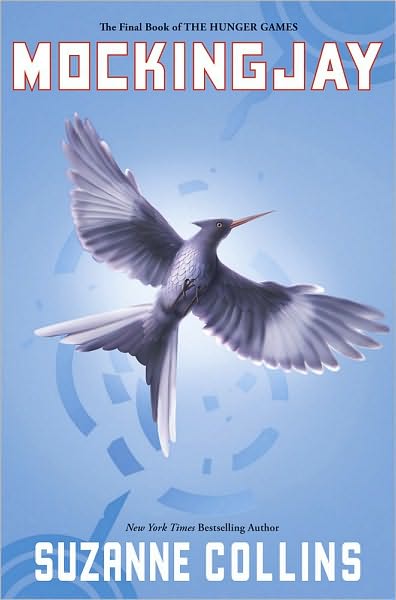 Mockingjay
Suzanne Collins
Scholastic Inc.
$17.99 U.S. (Hardcover)
FTC: I received this book from the publisher with the understanding that I would provide an honest review for no compensation.
Synopsis:
Against all odds, Katniss Everdeen has survived the Hunger Games twice. But now that she's made it out of the bloody arena alive, she's still not safe. The Capitol is angry. The Capitol wants revenge. Who do they think should pay for the unrest? Katniss. And what's worse, President Snow has made it clear that no one else is safe either. Not Katniss's family, not her friends, not the people of District 12. Powerful and haunting, this thrilling final installment of Suzanne Collins's groundbreaking The Hunger Games trilogy promises to be one of the most talked about books of the year.
My Thoughts:
Oh My Goodness!!!!! I would like to start out this review by sending out a Thank You to Tracey Van Straaten for sending me Mockingjay early, and providing me with the opportunity to review it today! I don't even know where to start, but throughout the entire book a line from Eminem's new song Love the Way You Lie kept running through my head.... "Just gonna stand there and watch me burn, Well that's alright because I like the way it hurts," Katniss Everdeen the girl on fire. If a book is good I have trouble putting it down, but with Mockingjay it almost pained me to stop reading. Suzanne Collins is by far one of the best authors I have ever read. Mockingjay did the series justice by providing riveting action and heartfelt moments. I found myself gasping out loud (GOL) whenever something happened to Katniss and friends. I felt like I was truly part of the story. I was not really sure where Collins would take this book, but I absolutely loved her decision. With Panem in rebellion it is up to Katniss to become the symbol of the rebellion, it is her job to become the mockingjay. The entire Hunger Games series is full of desperation, death and destruction and Mockingjay stayed true to form. I sympathized with Katniss as she began to see that being the Mockingjay did not mean that her family and friends would be safe. At the end of the book I found myself relieved and a little saddened. While the ending did the series justice and brought everything to a close I could not believe how many people died. Mockingjay was amazing, and I cannot wait until Suzanne turns this series into a movie.
Recommendation: Anyone who wants to GOL
Grade: A+++++
Age: Young Adult (16+), This book is full of death and violence.
Quote: "If we burn, you burn with us"