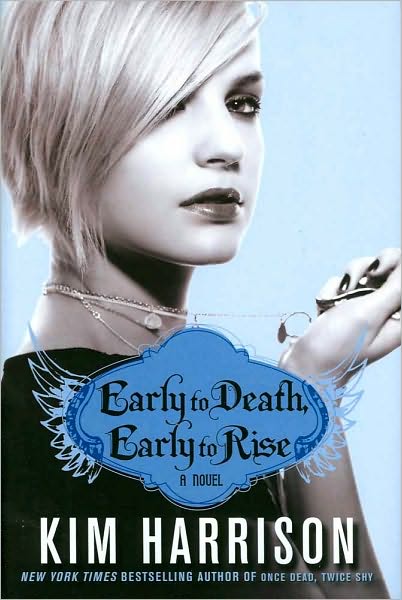 Early to Death, Early to Rise
Kim Harrison
HarperCollins
$16.99 U.S. (Hardcover)
FTC: I purchased this book
Synopsis:
Seventeen, dead, and in charge of heaven's dark angels—all itching to kill someone.


Madison Avery's dreams of ever fitting in at her new school died when she did. Especially since she was able to maintain the illusion of a body, deal with a pesky guardian angel, and oh yeah, bring the reaper who killed her to his untimely end. Not exactly in-crowd material. It's amazing that her crush, Josh, doesn't think she's totally nuts.

Now Madison has learned that she's the dark timekeeper, in charge of angels who follow the murky guidelines of fate. Never one to abide by the rules, she decides it's time for a major change to the system. With the help of some unlikely allies, Madison forms a rogue group of reapers who definitely don't adhere to the rules of the heavens.

But as she grapples with the terrifying new skills that come with being a timekeeper, Madison realizes she may not be prepared for what lies ahead—unless she gets some seriously divine intervention.
My Thoughts:
It had been about a year since I had read Once Dead, Twice Shy, but it was really easy for me to get back into this series. Madison is one of my favorite female characters in any book. She is spunky and awkward at the same time. I love the journey that the books takes her through as she learns to control being dead, being a dark time keeper, being in high school, and maybe even having a new boyfriend. She is a fun character to read about and you just have to love her. I think Kim Harrison did an amazing job creating a sequel to her original book. I cannot wait to see what happens next!
Recommendations: Anyone who loves a spunky heroine.
Grade: A
Age: Young Adult (14+)