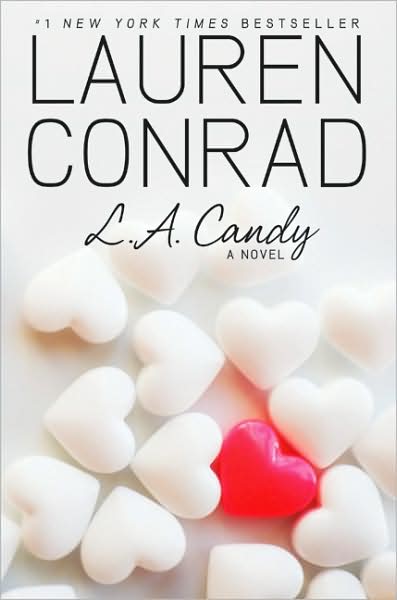 L.A. Candy
Lauren Conrad
HarperTeen
$17.99 U.S. (Hardcover)
FTC: I purchased this book.
Synopsis by Barnes and Noble:
Los Angeles is all about the sweet life: hot clubs, cute guys, designer . . .
everything
. Nineteen-year-old Jane Roberts can't wait to start living it up. She may be in L.A. for an internship, but Jane plans to play as hard as she works, and has enlisted her BFF Scarlett to join in the fun.
When Jane and Scarlett are approached by a producer who wants them to be on his new series, a "reality version of Sex and the City," they can hardly believe their luck. Their own show? Yes, please!
Soon Jane is TV's hottest star. Fame brings more than she ever imagined possible for a girl from Santa Barbara—free designer clothes, the choicest tables at the most exclusive clubs, invites to Hollywood premieres—and she's lapping up the VIP treatment with her eclectic entourage of new pals. But those same friends who are always up for a wild night are also out for a piece of Jane's spotlight.
In a city filled with people chasing after their dreams, it's not long before Jane wakes up to the reality that everyone wants something from her, and nothing is what it seems to be.
My Thoughts:
I was surprised when I read this book. I picked it up to read, because I knew everyone else would be reading it, I did not expect much from it. I think Lauren Conrad did a good job of creating characetrs that were likeable. Jane was my favorite. She started out as just a normal girl, who by good luck and chance was able to make it big. I will not lie the plot was pretty predictable, and it did take me a bit to get into the book, but a few chapters in I was hooked. The last few chapters sold me, and I cannot wait to read the next book. I was amazed at how much I enjoyed this book.
Recommendations:
Anyone looking for a fun read.
Grade: A-
Age: 15 and up