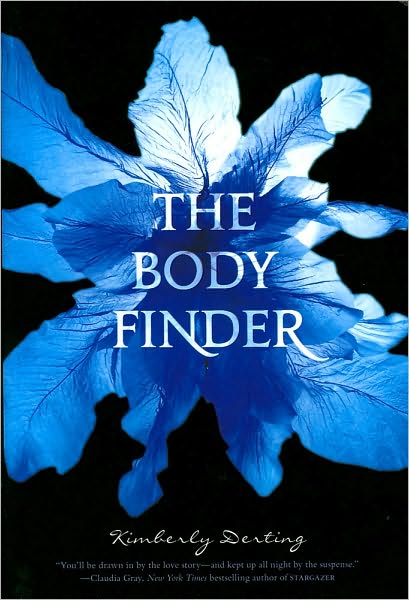 The Body Finder
Kimberly Derting
HarperCollins
$16.99 U.S. (Hardcover)
FTC: I borrowed this book from a friend


Synopsis:
Violet Ambrose is grappling with two major issues: Jay Heaton and her morbid secret ability. While the sixteen-year-old is confused by her new feelings for her best friend since childhood, she is more disturbed by her "power" to sense dead bodies—or at least those that have been murdered. Since she was a little girl, she has felt the echoes the dead leave behind in the world . . . and the imprints that attach to their killers.

Violet has never considered her strange talent to be a gift; it mostly just led her to find dead birds her cat left for her. But now that a serial killer is terrorizing her small town, and the echoes of the local girls he's claimed haunt her daily, Violet realizes she might be the only person who can stop him.

Despite his fierce protectiveness over her, Jay reluctantly agrees to help Violet find the murderer—and Violet is unnerved by her hope that Jay's intentions are much more than friendly. But even as she's falling intensely in love, Violet is getting closer and closer to discovering a killer . . . and becoming his prey herself.
My Thoughts:
This book was amazing! The Body Finder was a mystery that I could not put down. Derting has an amazing voice that is prevalent throughout the story. Violet is an amazing character with a special gift. I loved that Violet was able to sense death. It provided a dark element to the story that made it so fun to read. I was absolutely in love with Jay throughout the book. He was ana amazing friend and just plain adorable. I was entranced throughout the entire book by the suspense. Derting did an amazing job with her writing switching between the voice of the killer to Violet.
Recommendations; I would recommend this book to everyone.
Grade: A
Age: Young Adult (14+)