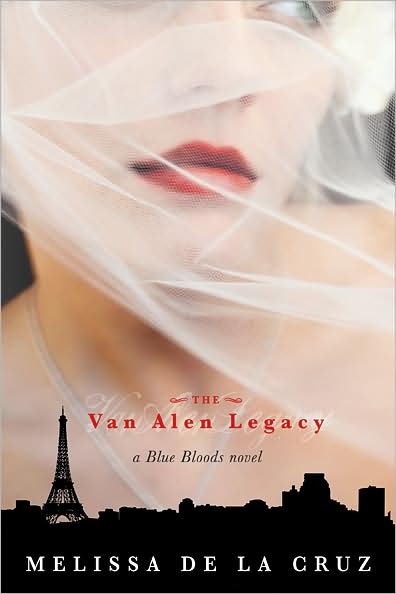 Van Alen Legacy
Melissa de la Cruz
Hyperion Books For Children
$16.99 U.S. (Hardcover)
FTC: I bought this book
Synopsis by Barnes and Noble:
With the stunning revelation surrounding Bliss's true identity comes the growing threat of the sinister Silver Bloods. Once left to live the glamorous life in New York City, the Blue Bloods now find themselves in an epic battle for survival. Not to worry, love is still in the air for the young vampires of the Upper East Side. Or is it? Jack and Schuyler are over. Oliver's brokenhearted. And only the cunning Mimi seems to be happily engaged.

Young, fanged, and fabulous, Melissa de la Cruz's vampires unite in this highly anticipated fourth installment of the Blue Bloods series.
My Thoughts:
I was sooooo excited for this book to come out. I had been waiting since August. When I started it I could barely put it down, but then found my self threatening to toss it at a wwall in the end when I found out this in fact was not the last book. I was excited because prior to reading the book I was under the impression that this would be the final book in the series, my bad. But when it came to the book itself I was in love. The characters seemed much more developed in this book, and by this point I had my favorties picked out. I think that the story line was interesting in this book, and I found myself competely unaware of what was going to ever happen next.I think Melissa de la Cruz did a good job of keeping readers intrigued with this book, but she is terrible person because it will be close to a year before the next book comes out! All in all I absolutely loved Van Alen Legacy! The ending made me jump for joy I was so excited because the characters I wanted together were finally together.
Recommendation:
Anyone who loves Blue Bloods, but beware that the next one is not coming out for awhile and if you are antsy like me maybe wait a few months.
Grade: A
Age: 14 and up